Phoenix Guardian R HEPA Air Scrubber Hire
This is a common air scrubber used in Australia. They have various applications (see in the tabbed section below). They can be used in mould remediation to filter out mould spores, they are also commonly used to remove odour from fire damaged properties. Pre-filters need to be purchased from this unit for hire, please contact us regarding costings for this.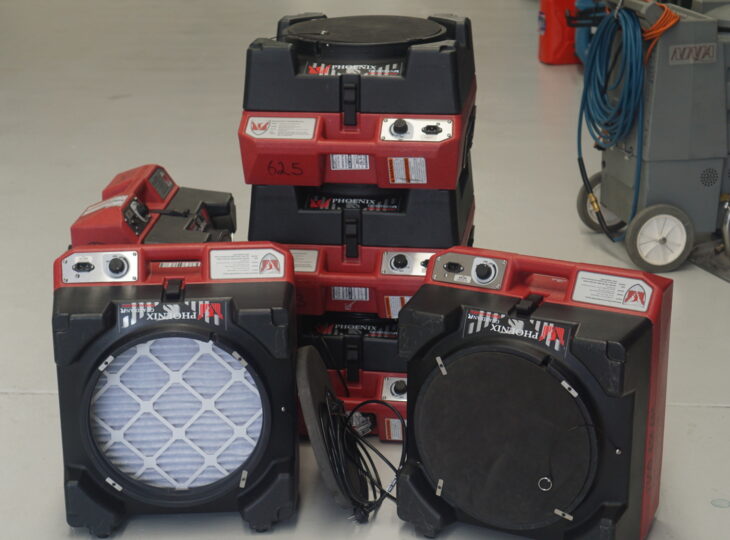 Specifications
Dimensions
56 cm x 36 cm x 61 cm
Manufacturer
Therma-Stor LLC
Applications
Smoke Odour Smell Removal
A carbon filter attachment can be used inside the machine to remove odours
Data Centres and Clean Rooms
Perfect for reducing dust and construction debris landing on critical IT equipment.
Hospitals and medical
Suitable for use in Odour and fume removal, laboratory, medical and lab applications
Silica and Concrete Dust Control
Perfect for construction sites where concrete grinding and plaster dust might circulate in the ambient air
This unit can be set up as a negative air machine. Lay flat ducting can be connected to both the inflow or outflow of air. It has a variable speed control of up to 500 Cfm. It is, therefore, capable of 4 air exchanges per hour in a 9.4m x 9.4m x 2.4m room all while using only 1.2 amps of power. Other features and benefits include:
The compact footprint allows high air volume for minimum space
easy filter change and hinged access door
Machines stackable
Activated charcoal pre-filters available for odour control and smoke odour removal
Low power usage only 1.2 amps
Light and easy to carry. Smaller than Hepa 500 with similar performance