Hepa Industrial Air Cleaner / Purifier / Scrubber 4125 CFM
This is a large unit that is useful for commercial and industrial applications. It has a very high static lift and very high performance. This unit requires 2 x 230v single phase circuits for operation and can run in either 2 x 15 amp or 2 x 10 amp circuits depending on the performance needed and site power availability provided.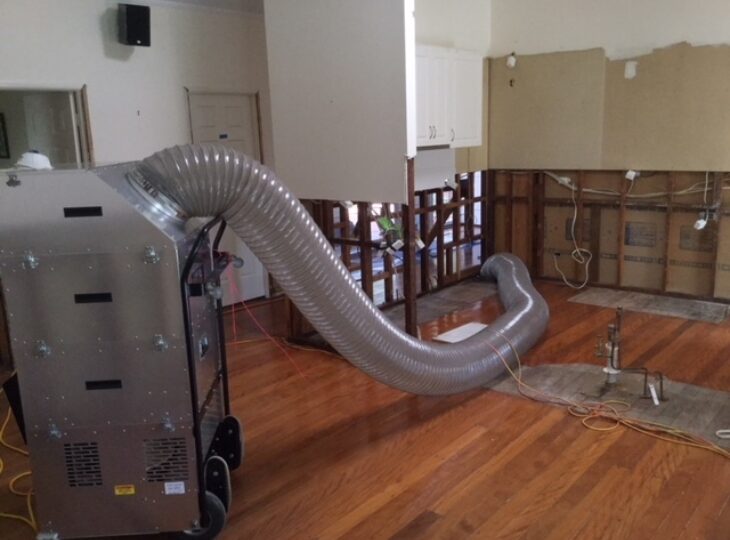 Specifications
Power
Requires 1 or 2 x 230v circuits at either 10 or 15 amps
Cabinetry
20 Gauge Stainless Steel
Weight
130 Kg. Modular construction. Can be transported in 4 parts
Dimensions
68cm x 79cm x 1 560cm
Power Module Weight:
79 Kgs
HEPA Module Dimensions
68cm x 65cm x 35 cm
Peak Blower Performance
7 000 CMH and 8.4" w.g. static
Blower:
2 ea. backward-curved blowers
Electrical Requirements
230 V/8 or 15 amp /50 Hz
Integrated Transport Cart:
Yes
Non-Marking Stairclimber:
Yes
3-Stage Filtration with HEPA:
Yes
Amperage Adjustment Switch:
Yes
Applications
Industrial and Commercial mould remediations
Our 2000 cfm units can filter the indoor air environment of mould spores, and typically a single unit can do sufficient air changes for a single level of a house.
Large Clean Rooms and Data Centers
This unit is very effective in large data centers especially during the data center remediation phase.
Construction Sites and Surface preparation
There is a very high CFM and static potential in this unit which makes it useful for filtering concrete and silica dust during surface preparation and general construction
Fire damage
Fire odour and smoke smell can be removed with the installation of a carbon filter.
VOC Hepa Filtration
Through the use of a carbon filter, this unit can filter out VOC odour in the ambient environment
This is a relatively loud unit and cannot be used in an office or home environment while there are building occupants present.
It can easily be transported as a modular system. It is transported in 3 sections and can be loaded into a trailer, van or ute.
This is originally designed as a duct cleaning unit, therefore we have all the duct cleaning machinery available separately if needed to be hired with the machine
There is no ducted outlet on this machine, therefore it cannot be run in a negative air environment.
There are 2 motors in this unit, Due to the design of the motor, it creates a high about of static lift
There is a microprocessor that alerts you when the unit is heavily loaded
Advanced variable frequency drive which allows optimal performance without overloading circuits
The panel contains - hour meters, filter replacement indicator, circuit breakers and audio filter alarms
3 stage filtration including a washable and reusable filter bag as a pre-filter.
Hepa primary filter is a pack configuration allowing optimum filter performance due to high surface area
4 module design which makes it easy to transport and use on jobs
Can wheel unit through a standard sized doorway
There is a built-in stair climber which allows it to be rolled on stairs without damaging the flooring.